Does this bird look familiar to you? Has it been drumming and drilling holes into your cedar siding or stucco and causing serious damage? (As we have learned, the peckers seem to have an affinity for the EIFS stucco system.) This woodpecker, the Northern Flicker, has become a real concern and nuisance for some homeowners in Calgary. From Edgemont and Deer Run to Springbank and Braeside, it seems no areas in Calgary are immune.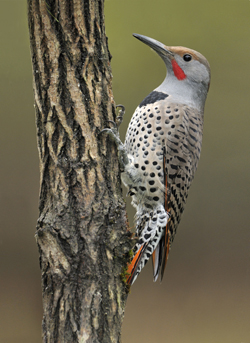 We recently re-sided one home where the Northern Flicker had drilled a hole through the cedar siding, bored down through the insulation where it made a large cavity of at least 12″, broke through the vapour barrier and started to work it's way through the drywall! Can you say water penetration, mould, and wall deterioration?
Protected under the Migratory Birds Convention Act, one way to make sure the Calgary woodpeckers can't nest in your home is to have it re-sided with James Hardie fiber cement siding. As the name suggests, James Hardie siding is composed of sand, cement and wood pulp fiber and as such is impervious to the drilling woodpeckers. Watch this YouTube video on How It's Made so you can see for yourself how tough this material really is. Re-siding even one wall can make a difference, as they (the cute but cheeky little buggers) seem to focus on specific walls for the drumming, drilling and pecking behaviours.
While we don't profess to be experts on the Northern Flicker woodpecker in Calgary, we do profess to be Calgary's Exterior Renovations Specialists with 25 years of experience under our belt and all the warranties to back us up.
Call us for a free quote on woodpecker proofing your Calgary home at (403) 640-1334 or e-mail us at contact@sisltd.ca or for more information on James Hardie siding, click here.