Sliding Patio Doors: Fully Customizable for a Distinct Look
S.I.S. EXTERIOR RENOVATIONS IS A DISTRIBUTOR OF NORTH STAR WINDOWS, PATIO DOORS & DOORS.
ALL MANUFACTURED IN CANADA.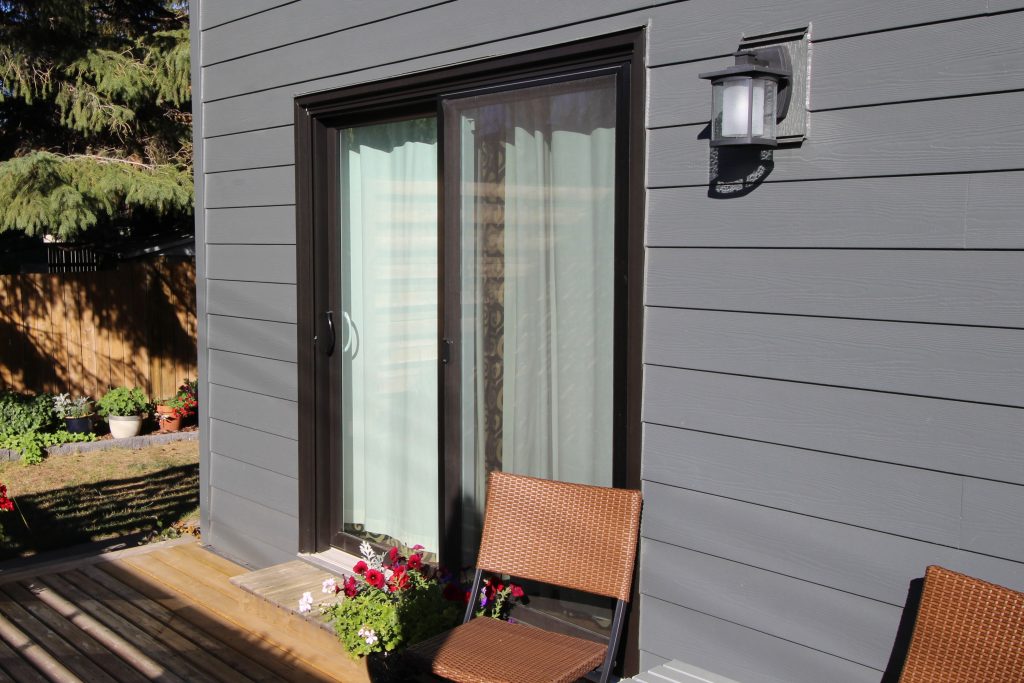 THE BEST IN CALGARY SLIDING DOORS AND PATIO DOORS.
S.I.S. carries a large selection of Calgary sliding doors to suit any need. S.I.S. excels at Calgary sliding doors renovation projects for homes, condos and apartments. The North Star brand of patio doors systems carried by S.I.S. are available in standard two, three or four wide configurations. These patio doors are fully customizable with custom sizes, transoms and sidelites available.
Color is another option on these amazing patio doors. Choose from classic white along with nine standard exterior fusion colors to match with the exterior of your home – espresso, sable, chestnut brown, cocoa, sandalwood, hickory, ivory, anthracite grey and midnight black. These UV-resistant vinyl overlays, with an embossed wood grain texture, will remain attractive for years to come.
You can also enjoy the warmth of a wood interior finish with our kolonial oak, light oak or walnut acrylic overlay: or if matching to pre-existing wood stains or paint colors, use our stainable – paintable overlay with its wood grain texture. All of these options are available on North Star windows as well, so that you can have a continuous look throughout your entire home with your patio door matching the look both inside and out of all of the windows in your home.
Also available on these Calgary Patio Doors are:
Internal mini blinds which are sealed between 2 panes of tempered safety glass – with no cleaning required!
Multi-point locks
Easy-use security bolts
Hardware available in standard white or black and premium satin nickel, pewter or brass.
Our Calgary Patio Doors can be joined together in an endless number of combinations to improve booth energy efficiency and aesthetics of any home. Our product specialists will take into account all of your requirements when guiding you through the selection process. From single-family homes to condominiums and apartment buildings, S.I.S. has provided top quality consulting, products and service for Patio Door replacements.
Patio Doors
S.I.S. also has aluminum clad patio doors and aluminum clad wood patio doors for those customers looking for a sophisticated look to match the interior of their homes. Aluminum clad vinyl comes in twelve exterior colors and two interior colors and the aluminum clad wood patio doors come in twelve exterior colors and a paintable or stainable hem-fir on the interior. These dependable doors combine energy efficiency, durability and beauty and are manufactured locally here in Calgary.
NORTH STAR ENTRY DOOR SYSTEMS
S.I.S. also offers a beautiful selection of North Star front entry door systems that are available in steel, wood grain fiberglass or smooth skin fiberglass. The North Star woodgrain fiberglass doors are available in fir, mahogany, oak and rustic with factory interior/exterior stain or painted colors. Fiberglass doors won't dent, warm, rot or rust and insulate up to six times better than wood doors. Choose from a variety of flush and embossed panel styles in both 6'8″ and 8′ sizes. Most styles can be configured with glass.
BEAUTIFUL CALGARY GARDEN DOORS AND FRENCH DOORS
S.I.S. also supplies and installs garden doors. Garden doors are a modern alternative to a patio door. Let in a breeze to cool off or to air out your house with the fresh scent of the outdoors. Being half of each, the Garden Door gives you the full option of full-length window ventilation with the look of a door. Our hinged garden doors offer a stylish alternative to sliding doors. Like the North Star entry door systems, the garden doors come in woodgrain or smooth fiberglass as well as steel. Choose a factory finish to match your style.
S.I.S. Exterior Renovations is a locally owned and operated business with a history of successful results. Founded in 1991, S.I.S. has built its reputation on customer satisfaction and quality workmanship. Following an initial consultation, an S.I.S. product specialist will visit your home to review your plans and answer questions free of charge. After the consultation, S.I.S. will prepare a written estimate and scope for your review as well as listing color and finish options and pricing levels to satisfy a range of budgets. Homeowners can rest assured their Calgary French doors investment is covered by warranties by both S.I.S. and its manufacturing partners. Call us today to book your free in-home estimate!