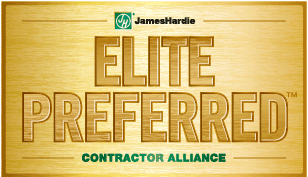 Are you in the market for new siding on the exterior of your home? Have you researched the various products available and decided that James Hardie fiber cement siding is the one product that makes sense when it comes to hail resistance, insect resistance, wood pecker resistance, fire resistance and warranties?
Now that you have decided that you want James Hardie replacement siding on the exterior of your home, consider the following reasons to hire S.I.S. to complete your project:
S.I.S. has been granted Elite Preferred Contractor status by James Hardie – currently the only Elite Preferred Contractor in Calgary
We are a James Hardie approved installer and one of the most experienced installers in Calgary and area – due in part to the large volume requirements that we have had to meet in order to obtain the Elite Preferred status.
We have a "Likely to Recommend" Guild Quality score greater than 90%
All of our crews are trained on the James Hardie Best Practices and Silica Safety procedures
We have met the requirements for the 90% James Hardie Trim Attachment and Differentiated Products attachment rates as laid out by James Hardie for Elite Preferred Contractor status (which again means that we are extremely experienced in working with all James Hardie siding products and materials).
For further information, call us at (403) 640-1334 or e-mail us at contact@sisltd.ca.