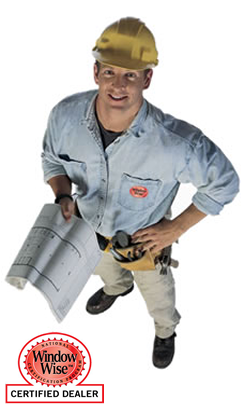 When considering whether to replace all of the windows in your home, choose a Window Wise Certified Contractor. Window Wise is a nationally recognized quality assurance program designed to give homeowners peace of mind that their window investment will be a lasting one. Window Wise approves window replacement manufacturers like North Star Windows and replacement window installation contractors like S.I.S. Exterior Renovations.
The five components of the Window Wise program:
1. Approved windows: S.I.S. must install windows that are Window Wise certified. Window Wise enforces rigid quality standards before granting their seal of approval to a window manufacturer. North Star windows are Window Wise certified and are the window of choice for all S.I.S. projects.
2. Certified Contractors: S.I.S. is a Certified Window Wise contractor. S.I.S. meets the strict Window Wise standards and is subject to random inspections from Window Wise.
3. Trained and Certified Installers: All S.I.S. installers are trained and certified by Window Wise. The Window Wise program insists that a certified installer must be present at every job. For certification, an installer must successfully complete the comprehensive Window Wise installation training program.
4. Random Job Inspections: S.I.S. is subject to random job inspections by Window Wise. Window Wise randomly inspects certified installations to ensure standards are being maintained. Window Wise installers know they are being continually monitored not just for workmanship but also for professionalism, work ethic and customer service.
5. Quality Assurance Guarantee: Your windows will be registered with the Window Wise program. Your investment is insured for 5 years against failure by a transferable warranty. This is in addition to the waranties provided by North Star Windows and S.I.S.
If you are looking to replace your windows, call a Window Wise Certified Dealer like S.I.S. to ensure that your investment is guaranteed and will last a lifetime. Contact us for a FREE quote at (403) 640-1334 or e-mail us at contact@sisltd.ca.