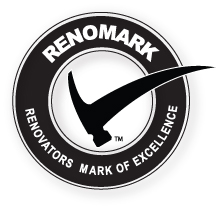 Are you familiar with the Canadian Home Builders Association's RenoMark™ Program? Did you know that S.I.S. is a RenoMark Renovator? Only RenoMark Renovators are allowed to use the RenoMark symbol. This symbol identifies those renovation contractors who have agreed to the Canadian Home Builder's Association – Calgary Region Code of Ethics as well as a renovation-specific code of conduct, who provide warranties, who understand the value of customer service during and following projects, and who are constantly exposed to information on current trends, the latest materials and new regulations.
There are many good reasons to hire a RenoMark Renovator to complete your home renovation project including the following:
A RenoMark Renovator will:
1. Be a member in good standing of the Canadian Home Builders' Association – Calgary Region.
2. Abide by the Canadian Home Builders' Association – Calgary Region Code of Ethics.
3. Provide clients with a detailed, written contract/scope of work for all jobs.
4. Provide a minimum two (2) year warranty on work (excludes minor home repairs & items covered by manufacturers warranty).
5. Carry a minimum of $2 million liability insurance.
6. Have Worker's Compensation Board ("WCB") coverage where required and/or work only with subcontractors who have WCB coverage.
7. Carry all applicable business licences, as required.
8. Maintain a professional level of knowledge of current building codes, permit procedures, safety acts and technical skills through continuing education via attending a minimum of four (4) Canadian Home Builders' Association – Calgary Region breakfast sessions per year.
9. Maintain a safe and organized worksite.
10. Return phone calls to clients within two (2) business days.
Whether you are looking to change a kitchen window or to add an addition onto your home, we have the expertise and experience to complete any size project. If you are looking for a competent company for replacement windows, doors, siding (including James Hardie siding), stone, stucco, soffit, fascia, and exterior insulation you are looking at the right company.
Contact S.I.S. at (403) 640-1334 for a free quote or e-mail us at contact@sisltd.ca for questions or comments.
Thank you for considering S.I.S. for your exterior renovation project.